EasyMile and Kalray Strengthen Development Platform Collaboration
January 6, 2021 - Toulouse and Grenoble, France
Corporate
Photo Credit: EasyMile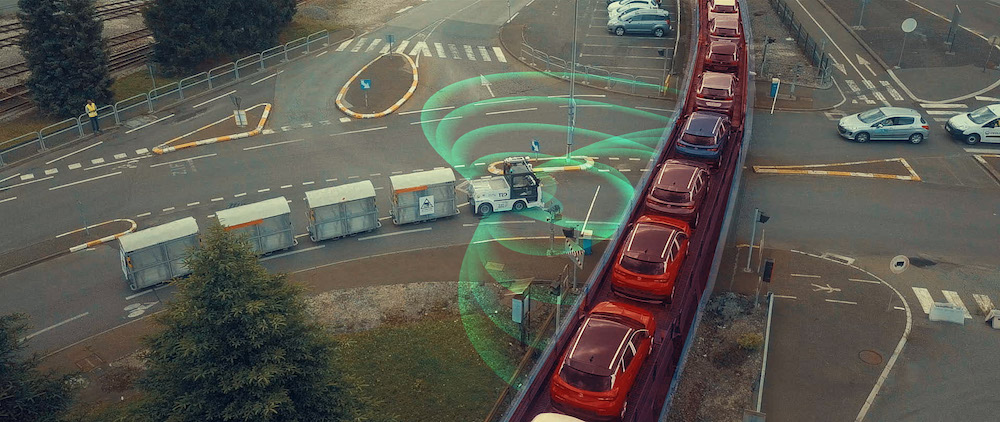 Toulouse, Grenoble - France, January 6, 2021 –Autonomous technology provider EasyMile and intelligent processors supplier Kalray have deepened their relationship with the signature of a Memorandum of Understanding (MoU) formalizing their relationship to develop intelligent systems.
The partnership follows their work together in the ten-partner-strong ES3CAP collaborative project, led by Kalray and announced in 2019. The ES3CAP program, with a budget of €22.2 million over 3 years, aims to build a hardware and software platform intended for manufacturers developing critical applications requiring high computing capacity in the fields of aeronautics (aviation, flying cabs, UAVs), defense and, autonomous vehicles.
EasyMile's technology interacts with all kinds of next-generation radars, cameras, and lidar sensors to autonomize a range of vehicles. Its vehicle-agnostic software makes it the partner of choice for global Original Equipment Manufacturers (OEMs). As a fabless company, EasyMile develops autonomous vehicle solutions that tackle identified use-cases very precisely using common-core, unique technology. EasyMile's solutions require underlying platforms providing both safety and performance.
Benoit Perrin, Managing Director of EasyMile: "Safety and performance reliability are key to embedded systems. This collaboration with Kalray, which started with the ES3CAP program, matches the high criteria we expect of our partners and we are delighted to be working with them."
Eric Baissus, CEO of Kalray: "EasyMile is one of the most advanced companies delivering safe solutions for autonomous vehicles. For us, this collaboration is further evidence of the value that our MPPA® intelligent processors and SuperECU® solution can bring to easily build safe autonomous systems."
Autonomous vehicles require ECUs ("Electronic Computing Unit") capable of running a multitude of applications in parallel with no compromise on safety. Kalray's SuperECU®, based on Kalray MPPA® Intelligent Processor, is a patented platform capable of providing both the demanding performance required to compute functions such as artificial intelligence algorithms but also to support multi-applications with different levels of criticality on the same chip. Kalray's MPPA® processor is one of the rare solutions on the market to ensure complete freedom from interference between these applications, which is a key attribute in building safe systems.
In addition, Kalray intelligent processors are not only capable of executing AI algorithms but can also simultaneously execute a wide set of different processing such as mathematical algorithms, signal processing and networking software stacks. This heterogenous multi-processing capability is also a critical requirement for autonomous vehicles, and is a unique capability of Coolidge™, 3rd generation of MPPA® processor available now.
ABOUT EASYMILE
EasyMile provides software and complete solutions for driverless mobility and goods transportation. EasyMile partners with manufacturers to autonomize their vehicles with award-winning technology built on safety-by-design, ready for deployment today. Since 2014, Easymile has become known for quality delivery and real-world deployments. Its proven technology has driven autonomous vehicles in 300+ locations in more than 30 countries: The EZ10 is the most deployed autonomous shuttle in the world. For material handling, TractEasy is a tow-truck solution optimizing supply chains with cross/indoor-outdoor, 24/7 material handling at factories and industrial sites. With several mass operations around the world EasyMile was the first to deploy fully driverless at Level 4 of autonomous driving. It was also the first autonomous vehicle solutions provider to be ISO 9001 certified. At the core of EasyMile's cutting-edge sofware is a step-by-step approach to safety proven by a zero-collision record. EasyMile's future-ready technology specializes in robotics, computer vision and vehicle dynamics powered by deep learning. Among its customers leading transport operators, city authorities, airports, business parks, manufatcurers, factories, logistics centers and universities.
Headquartered in Toulouse, France, the company employs close to 250 highly qualified employees. In addition to the two founders, Gilbert Gagnaire and Philippe Ligier, EasyMile has investors who are also technical partners: Alstom, Continental and Bpifrance. www.easymile.com
Press Contact: 
Benieke TREVERTON
benieke.treverton@easymile.com
Tel. +33 (0)7 62 83 13 44
ABOUT KALRAY
Kalray (Euronext Growth Paris - FR0010722819 - ALKAL) is a fabless semiconductor company, leading provider in a new generation of processors specialized in Intelligent Data Processing from Cloud to Edge. Kalray MPPA® Intelligent Processors are able to capture and analyze on the fly massive data flows, and interact in real time with the outside world. These processors are capable of running demanding AI algorithms and simultaneously a wide set of different processing and control tasks such as intensive mathematical algorithms, signal processing, network or storage software stacks. Kalray's Intelligent Processors can be deployed in fast-growing sectors from Cloud to Edge: modern data centers, 5G telecom networks, autonomous vehicles, healthcare equipment, industry 4.0, drones and robots… Kalray's offering includes processors, acceleration cards and a software suite, for a broad spectrum of customers such as next generation data center equipment manufacturers and service providers, system integrators and consumer product manufacturers such as car makers. Founded in 2008 as a spin-off of CEA French lab,
Kalray counts among its investors: Alliance Venture (Renault-Nissan-Mitsubishi), Safran, NXP Semiconductors, CEA and Bpifrance.
Read more at: www.kalrayinc.com
Investor Contact: 
Eric BAISSUS
contactinvestisseurs@kalrayinc.com
Tel. +33 (0)4 76 18 90 71
Media Contact: 
Loic HAMON
communication@kalrayinc.com
Tel. +33 (0)4 76 18 90 71
---
EASYMILE ET KALRAY RENFORCENT LEUR COLLABORATION
POUR LE DÉVELOPPEMENT D'UNE PLATEFORME
DE MOBILITÉ INTELLIGENTE ET AUTONOME
Toulouse, Grenoble, le 6 janvier 2021 - EasyMile, fournisseur de solutions de mobilité intelligentes
et autonomes et Kalray, pionnier des processeurs intelligents, annoncent aujourd'hui la signature d'un accord de partenariat visant à renforcer la relation entre les deux sociétés pour le développement de systèmes intelligents.
Ce partenariat fait suite aux travaux engagés précédemment dans le cadre du projet collaboratif
ES3CAP annoncé en 2019, dont Kalray est le chef de file, et qui fédère 10 partenaires industriels et
académiques. Le programme ES3CAP est doté d'un budget total de 22,2 M€ sur 3 ans. Il a pour ambition de concevoir une plateforme matérielle et logicielle destinée aux industriels développant des applications critiques et qui nécessitent de fortes capacités de calcul dans les domaines de l'aéronautique (aviation, taxis volants, drones), de la défense et des véhicules autonomes.
La technologie d'EasyMile pilote toutes sortes de radars, caméras et capteurs LiDAR* de nouvelle
génération, afin de rendre les véhicules autonomes. Son logiciel, qui peut être déployé sur n'importe
quel type de véhicule, fait d'EasyMile le partenaire de choix pour les constructeurs automobiles ou
OEM (« Original Equipment Manufacturer ») mondiaux. Grâce à sa technologie unique, EasyMile est
ainsi en mesure de leur proposer des solutions pour véhicules autonomes, répondant très
précisément à certains cas d'usages. Les solutions d'EasyMile nécessitent toutefois de fonctionner sur des plateformes hardware offrant à la fois sécurité et performances.
Benoît Perrin, Directeur Général d'EasyMile : « La sécurité et la fiabilité des performances sont
essentielles aux systèmes embarqués. Cette collaboration avec Kalray, qui a débuté avec le
programme ES3CAP, répond aux critères élevés d'excellence que nous recherchons avec nos
partenaires. Nous sommes ravis de travailler avec Kalray ».
Éric Baissus, Président du Directoire de Kalray : « EasyMile est l'une des entreprises qui propose des solutions pour les véhicules autonomes les plus avancées au monde. Cette collaboration est une nouvelle preuve de la valeur que nos processeurs intelligents MPPA® et de ce que notre solution SuperECU® apportent pour développer facilement des systèmes autonomes et sûrs. »
Les véhicules autonomes nécessitent des calculateurs (ECU ou « Electronic Computing Unit »)
capables d'exécuter une multitude d'applications en parallèle, sans compromis sur la sécurité. Le
calculateur SuperECU® de Kalray, basé sur son processeur intelligent MPPA®, est une plateforme
brevetée, capable de fournir les très hautes performances requises pour exécuter les algorithmes d'ntelligence artificielle et de traiter de multiples applications avec différents niveaux de criticité, sur un même processeur. Le processeur MPPA® de Kalray est l'une des rares solutions sur le marché à garantir une absence totale d'interférence entre les applications, un élément clé pour assurer la fiabilité et la sécurité des systèmes.
Enfin, au-delà des algorithmes d'IA, les processeurs intelligents de Kalray sont également conçus
pour exécuter simultanément un large éventail d'applications de natures différentes, tels que des
algorithmes mathématiques, des piles de logiciels de traitement du signal et de mise en réseau. Cette capacité de multitraitement hétérogène constitue un autre élément critique pour les systèmesautonomes. Cette fonctionnalité, que très peu de processeurs sont capables de supporter, est d'ores et déjà disponible sur Coolidge TM , le processeur MPPA® de 3 ème génération de Kalray.
À PROPOS D'EASYMILE
EasyMile fournit des logiciels et des solutions complètes pour la mobilité autonome et le transport de marchandises. L'entreprise s'associe à des fabricants de premier ordre pour autonomiser leurs véhicules grâce à une technologie primée, basée sur la sécurité.
Depuis 2014, l'entreprise est reconnue pour sa qualité de livraison et le déploiement de véhicules
autonomes sur plus de 300 sites, dans plus de 30 pays : l'EZ10, véhicule pour le transport de passagers, est la navette sans conducteur la plus déployée au monde ; le TractEasy est un tracteur de manutention qui optimise les chaînes d'approvisionnement en intérieur comme en extérieur, 24h/24 et 7j/7 dans les usines et les sites industriels.
Avec plusieurs opérations d'envergure à travers le monde, EasyMile a été le premier à déployer des services totalement autonomes, au niveau 4 de la conduite autonome. C'est également le premier fournisseur de solutions pour véhicules autonomes à avoir été certifié ISO 9001. Au cœur du logiciel d'EasyMile, une approche renforcée de la sécurité grâce à laquelle aucune collision n'est à déplorer à ce jour. La technologie d'EasyMile repose sur la robotique, la vision par ordinateur et le deep learning pour la dynamique des véhicules. La société compte parmi ses clients des opérateurs de transports, des municipalités, des aéroports, des entreprises, des parcs d'activités, les centres logistiques et des universités.
La société, dont le siège est à Toulouse, emploie près de 250 collaborateurs hautement qualifiés. Outre les deux fondateurs, le Président-fondateur Gilbert Gagnaire et l'administrateur Philippe Ligier, EasyMile bénéficie d'investisseurs qui sont également des partenaires techniques: Alstom, Continental et Bpifrance.
www.easymile.com
CONTACT PRESSE
Benieke TREVERTON
benieke.treverton@easymile.com
Tel. 07 62 83 13 44
À PROPOS DE KALRAY
Kalray (Euronext Growth Paris - FR0010722819 - ALKAL) est une société de semi-conducteurs « fabless », pionnière dans une nouvelle génération de processeurs, specialisés dans le traitement intelligent des données tant au niveau du « Cloud » que du « Edge » (à la périphérie des réseaux). Les processeurs intelligents MPPA® de Kalray sont capables d'analyser à la volée une quantité extrêmement importante de données, et d'interagir en temps réel avec le monde extérieur. Ces processeurs peuvent exécuter des algorithmes d'IA nécessitant une forte puissance de calcul et, en parallèle, de nombreuses autres tâches, tels que des algorithmes de calcul mathématique intensif, de traitement du signal, des piles de logiciels réseau ou de stockage. Ces processeurs intelligents sont amenés à être utilisés dans les secteurs en pleine expansion du Cloud et du « Edge Computing », comme les data centers modernes, les réseaux télécoms 5G, les véhicules autonomes, les équipements de santé, l'industrie 4.0, les drones et les robots…
L'offre de Kalray, qui comprend aussi bien des processeurs que des cartes électroniques, ainsi qu'une suite logicielle, s'adresse aux fabricants d'équipements et fournisseurs de services pour datacenters de nouvelle génération, aux intégrateurs de systèmes et aux fabricants de produits grand public comme les constructeurs automobiles.
Fondée en 2008 comme spin-off du CEA, Kalray compte parmi ses investisseurs : Alliance Venture (Renault-Nissan-Mitsubishi), Safran, NXP Semiconductors, CEA et Bpifrance. Pour plus d'informations, visitez le site internet de Kalray : www.kalrayinc.com